Check out my complete Performance Lab PL-Immune review to discover everything you need to know about its formula, price, and more!
You know that feeling when you're sick and it's just not going away?
We all have those days where we feel like our immune system is on the fritz. It can happen for a variety of reasons, but one thing is clear – your body needs some help.
That's where immune support supplements come in – a potential solution for those looking to give their body enhanced protection from any outside intruders.
One of the latest products to enter the market in this field is PL-Immune™, an immune support formula designed to provide broad-range support against complex immune challenges.
To find out if it stands true to its claims, I went ahead and reviewed this supplement from Performance Lab, covering its price, ingredients, how it works, and much more.
So, with no further ado, here's my complete Performance Lab PL-Immune review!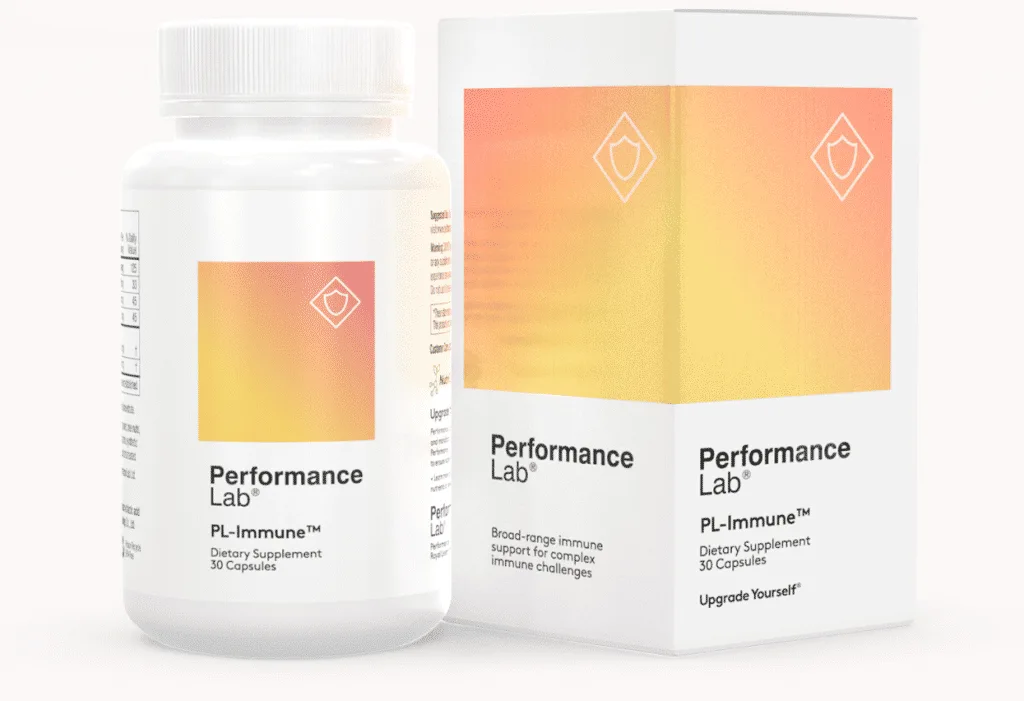 ---
Performance Lab PL-Immune: A Quick Overview
It's not uncommon for our immune systems to be working in overdrive, as we're forever coming into contact with things that pose a risk to our health and wellbeing.
However, there are a number of outside factors that can overwhelm you without warning; this leaves you vulnerable.
Environmental toxins may cause your body's defenses to weaken – leading to further deterioration in health or performance. And your immunity will only get weaker the more times you're affected by external sources.
Athletes have an even harder time with their training when fighting against such things because physical activity requires much stronger fitness levels than someone who does not require heavy movement on a daily basis.
Regardless of your circumstances, your immune system needs all the help it can get these days! Thankfully, there are supplements out there like Performance Lab PL-Immune with ingredients to support and protect your body.
You're about to find out more about each ingredient in the next section, so continue reading to find out more!
Performance Lab PL-Immune Review – Ingredients
Vitamin D – 20 mcg
For many years, it was thought that vitamin D only helped improve bone health. However, new research has shown that vitamin D has even more benefits for our health. For example, studies have shown that vitamin D can help boost the immune system [1].
However, many of us simply don't get enough vitamin D, particularly those in the northern hemisphere. Consequently, this can lead to side effects such as fatigue, bone pain, and muscle weakness.
To make matters worse, it has been shown that the lowest vitamin D levels occur in the winter months when people spend most of their time indoors. And because sunlight is the most common way to get vitamin D, it can be hard to get enough in the dead of winter.
Luckily, you'll find NutriGenesis® Vitamin D in PL-Immune, which enhances the antimicrobial effects of immune cells, helping to support both innate and adaptive immune responses throughout the year.
Vitamin C – 30 mg
A healthy immune system is crucial to total health and wellness, so it's a good idea to keep your intake of Vitamin C topped up. A deficiency in this vitamin might be rare, but you want an effective defense against intruders when they enter the body!
And considering vitamin C has an important role to play when it comes to healthy immune support, it's no surprise to see it on the ingredients list of PL-Immune.
Selenium – 25 mcg
Research has shown that selenium can help to reduce the risk of infection and improve immune response to infection.
Selenium is an essential trace element and a cofactor for many important antioxidants in the body. It is an important part of many enzymes involved in the production and action of various types of antioxidant molecules in the body.
When combined with PL-Immune™ L-Glutathione, however, NutriGenesis® Selenium provides 2X immune-defending super-antioxidant activity through the formation of selenoproteins that help immune NK cells and T-cells to function as they should.
Zinc – 5 mg
A zinc deficiency has the potential to wreak havoc on your immune system by throwing immune cell activity off track. Because of this, it's vital you get enough daily, especially as a zinc deficiency is incredibly common nowadays.
Supplement zinc daily and consistently, and you can go a long way in improving the growth and function of T-cells while also improving NK cell activity.
Lactococcus lactis strain Plasma (IMMUSE™ – Paraprobiotic*) – 50 mg
Unlike typical lactic acid probiotics such as the ones you'd find in yogurts, LC-Plasma targets pDC (plasmacytoid dendritic cells), or 'the leader of the immune system' in Lehman's terms.
IMMUSE™ is a superior option to the aforementioned probiotics as it covers 4 different immune cells; NK cells, Killer T-cells, Helper T-Cells, and B cells.
Setria® Glutathione – 250 mg
PL-Immune™ Setria® Glutathione is the only form of glutathione clinically proven to raise glutathione levels in the bloodstream while supporting your immune system.
This organic protein can not only increase T-cell numbers, but can also support normal antibody responses of your immune cells, as well as stimulating NK cell production.
And since glutathione is considered by many as one of the most important antioxidants in the body and can maintain gut lining integrity, it's easy to see why it made the PL-Immune ingredients label.
---
To Get the Best Deal, Visit:
www.PerformanceLab.com
---
Does Performance Lab PL-Immune Have Any Side Effects?
There are many things to like about PL-Immune, and one of its biggest selling points is that the likelihood of side effects is incredibly slim.
Of course, you should always consult a medical professional if you have any pre-existing medical conditions, but for most people, PL-Immune shouldn't cause you any problems when consuming it regularly.
Besides, PL-Immune follows in the footsteps of the rest of the Performance Lab range by being vegan-friendly, free from allergens and synthetic additives, and being non-GMO.
What Makes Performance Lab PL-Immune Unique?
There are many immune support supplements to choose from on the market nowadays, so you're certainly spoilt for choice.
But considering they're not all created equal, it's important to choose wisely so you can get the best bang for your buck.
So, why exactly should you part with your hard-earned cash to get your hands on PL-Immune? Here's a few reasons:
Activates and enhances 5 immune cell types
Maintains immune defenses during intense exercise
Provides dynamic, broad-range immune support for complex immune challenges
Besides the above, it's clear that the PL-Immune formula has been well thought through by the folks over at Performance Lab.
It contains a series of science-backed ingredients that we've talked about in-depth above, it's healthy for daily, long term use, and even its capsules are good for you!
Performance Lab PL-Immune Review: Price and Where to Buy
By this point, you can probably gather that PL-Immune is a premium product, and with that comes a premium price; one container will set you back $49.00.
But don't let that put you off, as there are fantastic cost savings to be had by taking advantage of Performance Lab's bulk buy offer consisting of 4 months' supply (3 boxes + 1 free).
The four month supply offer comes in at a reasonable $147, and means that per container, you'll only pay $36.75 – plus there's free worldwide shipping at no extra cost on all orders over $100!
One thing worth noting, however, is that you won't find Performance Lab products on online marketplaces such as Amazon or eBay. So if you see it listed there, stay clear – it might not be a genuine product!
Rest assured, ordering directly from the official Performance Lab website will ensure you'll always get the real deal.
---
To Get the Best Deal, Visit:
www.PerformanceLab.com
---
Concluding Thoughts: Performance Lab PL-Immune Review
So, that concludes my thorough Performance Lab PL Immune review. Here are my thoughts on the product:
PL-Immune is an ultramodern design that provides support for your natural immune function without being too invasive or harsh with what it does to you, and I think this point makes me recommend it as one of the best products in its class!
It's no wonder that when we aren't feeling our best, it is hard to get motivated and keep moving forward, but making sure you're healthy from the inside out is a vital step to living your best life.
When it comes to immunity, many people want one thing—to do whatever it takes to stay healthy.
That's where Performance Lab® PL-Immune™ comes in by activating your immune cells in order for them to do their job at full strength and with more coordination between them.
What's not to love about that?!
All in all, if you want to keep your immune system performing at its best, then be sure to make PL-Immune your go-to immune support supplement – I know I will!