Pros
Packed with essential nutrients for healthy brain function
Convenient and easy to take with you on the go
Available in four delicious natural flavors
Suitable for vegetarians and vegans
Cons
Not available in stores (only available online)
Premium price (for a premium quality formula)
In a constantly moving world that's becoming more and more convenience-based, ensuring you're getting the nutrition your brain needs can be tricky.
That's where Nutropic comes in – nootropic bars packed full of essential brain nutrients, designed to give your brain the support it needs to function at its best.
But are they any good? Let's find out.
I tried all four available flavors, and it's safe to say they're delicious – my favorite is the salted caramel variety (I'm a sucker for anything salty-sweet). But more importantly, they seem to do the advertised job.
If you're already sold, head to their website and check them out yourself. If you need a little more convincing, read on.
Nu:tropic: The World's Smartest Brain Food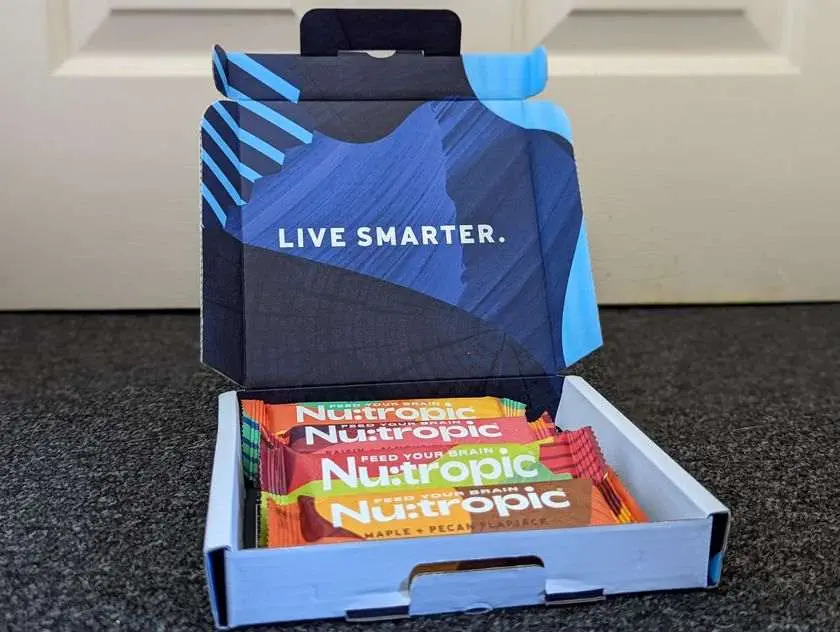 A bold claim, but one that Nu:tropic is confident in making. So what makes their bars so unique?
Unlike other snacks or supplements that might only contain one or two brain-boosting ingredients, every Nu:tropic bar is packed with a whole host of them.
Omega-3, phosphatidylserine, choline, vitamins, minerals, and gut-healthy prebiotic fiber are all present and accounted for.
In other words, if you're looking for a snack that will give your brain the support it needs, Nu:tropic fits the bill.
And if you're watching your caloric intake, you'll be happy to know that each Nu:tropic bar is under 200 calories and low in sugar. So you can snack guilt-free, knowing that you're feeding your brain and taking care of your body.
Nu:tropic's sister brands, Mind Lab Pro and Performance Lab, have already made waves in the nootropic space. And given the immense success of these brands, I was intrigued to see how their newest product would stack up.
So far, I'm impressed. The bars are delicious, convenient, and most importantly, they seem to work.
You can't ask for much more than that.
How Nu:tropic Supports Brain Functioning
The human brain is a complex machine that needs the proper nutrients to function optimally.
But when it comes to food, not all nutrients are created equal.
For instance, omega-three fatty acids are essential for brain health, but they're not always easy to come by in the average diet. The same goes for phosphatidylserine and choline – two nutrients that are crucial for healthy brain function but which most people are deficient in.
Nu:tropic is here to change that.
Each bar is made with premium Norwegian black oats and packed with essential brain nutrients like omega-three, phosphatidylserine, choline, vitamins, minerals, and gut-healthy prebiotic fiber. In other words, it's the perfect way to ensure your brain gets everything it needs to function at its best.
I've been using Nu:tropic for a few weeks now, and I can say that I've noticed a difference in my energy levels and focus. If you're looking for a convenient way to support your brain health, I recommend giving them a try.
Flavors of the Nu:tropic Bars
Nu:tropic bars come in four delicious natural flavors, and I've had the pleasure of trying them all.
I may as well start with my favorite – Salted caramel, which is every bit as delicious as it sounds—the perfect balance of salty and sweet, with a lovely soft texture.
Next up is maple and pecan. Out of the four, this one is probably the most traditional-tasting. It's got a lovely sweetness from the maple, with a slight crunch from the pecans. Although I must admit that I'm not a massive fan of pecans, so I enjoyed this one the least, but that's just my personal preference.
Raisin and almond is another winner in my book. I love the sweetness of the raisins, and the almond adds a lovely nutty flavor. This one is also nice and soft, like the salted caramel.
Last but not least is the classic blend of apple and cinnamon. It's got a lovely Christmassy flavor, and the apple gives it a nice sweetness without overpowering.
So there you have it – my thoughts on Nutropic bars. If you're looking for a convenient way to get all the essential nutrients your brain needs, I would highly recommend giving them a try. Trust me, your brain will thank you!
Nu:tropic Ingredients & The Science Behind Them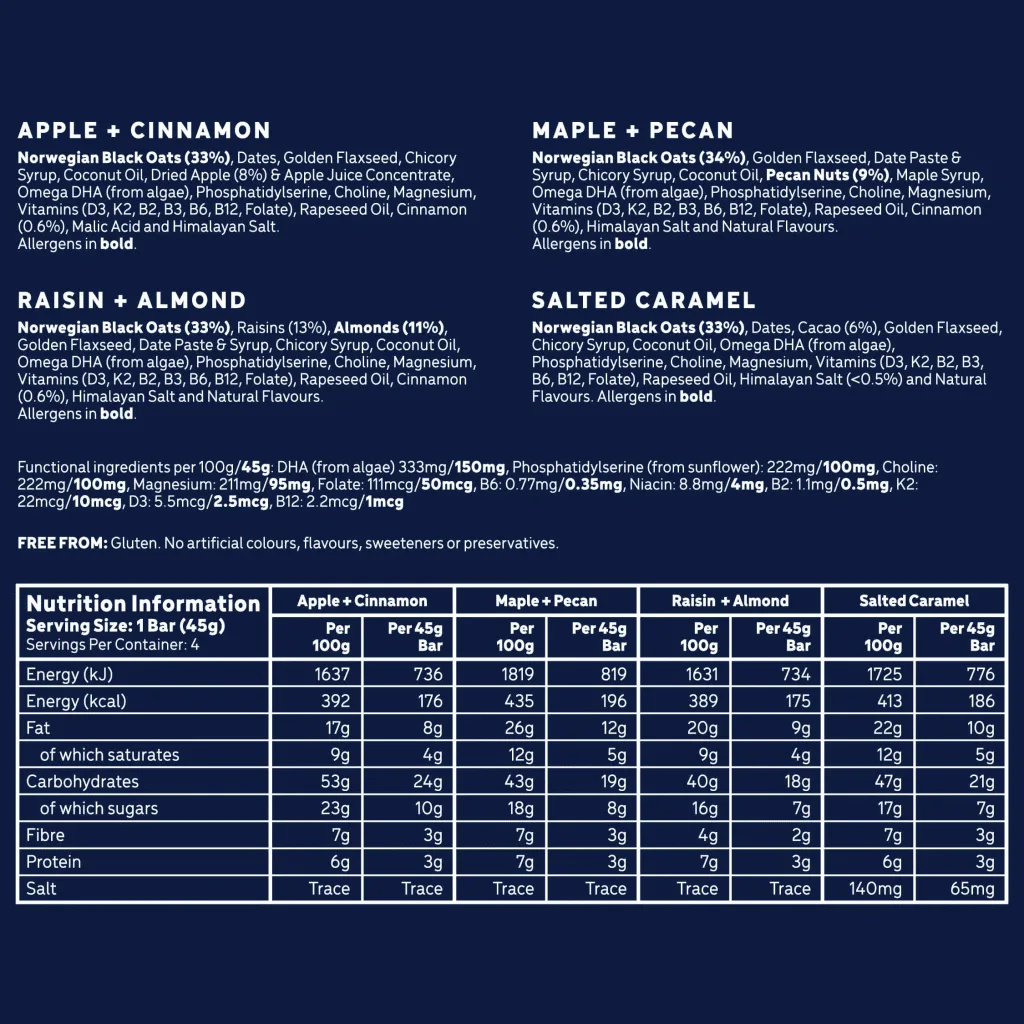 It's all well and good me telling you that Nu:tropic bars are packed with essential nutrients, but what does that actually mean? Let's take a closer look at the ingredients.
Norwegian Black Oats: 40% richer in essential fatty acids than regular oats, grown in Norway's pristine natural environment.
Choline: an essential nutrient that's crucial for healthy brain function. Produced using advanced NutriGenesis® nutrition technology.
DHA Omega-3: Sourced directly from Microalgae, the original source of marine omega-three.
Prebiotic Fiber: High-quality chicory root from Europe that helps to nourish the beneficial bacteria in your gut.
Vitamins & Minerals: An effective blend of vitamins D3, B12, and magnesium for optimum brain health.
Phosphatidylserine (PS): A type of phospholipid that's essential for healthy brain function
The combination of the above ingredients makes for a powerful brain-boosting formula. But don't just take my word for it – the science backs it up too.
For instance, studies have shown that omega-three fatty acids can help to improve cognitive function and reduce inflammation in the brain. Choline has been shown to support healthy memory and cognitive function, while phosphatidylserine has been shown to reduce age-related cognitive decline.
Pros and Cons of Nu:tropic Bars
Now that we know a little more about the ingredients let's look at the pros and cons of Nu:tropic bars.
Pros:
Packed with essential nutrients for healthy brain function
Convenient and easy to take with you on the go
Available in four delicious natural flavors
Suitable for vegetarians and vegans
Cons:
Not available in stores (only available online)
Premium price (for a premium quality formula)
Overall, I think the pros far outweigh the cons. Nutropic bars are an easy and convenient way to ensure your brain gets everything it needs to function at its best. And with four delicious flavors to choose from, there's sure to be one that everyone will enjoy.
Who Should Eat Nu:tropic Bars?
The truth is, we all need to take care of our brain health. Whether you're a student studying for exams, an office worker staring at a computer screen all day, or a busy parent juggling work and family life – we all need to give our brain the nutrients it needs to function at its best.
Whether you're a busy professional looking for a convenient way to get your essential nutrients, or a student needing an extra brain boost before exams, Nutropic bars are the perfect solution.
They're also suitable for vegetarians and vegans and are free from gluten, soy, dairy, GMOs, and artificial additives.
However, it's worth noting that Nu:tropic isn't suitable for pregnant or breastfeeding women or anyone under 18.
If you fall under neither category, I'd highly recommend giving Nutropic bars a try. Your brain will thank you for it!
Nu:tropic Price and Where to Buy
Like Performance Lab and Mind Lab Pro, you can only buy Nu:tropic through their official website. You won't find it in stores or on Amazon.
If you're unsure which flavor to choose, you can buy a taster pack of four bars, including one of each flavor, for $12.99. Or you can buy a box of 12 bars (one flavor) for $34.99.
Nutropic Review Final Thoughts: Are They Worth The Hype?
Imagine if you could eat your way to better memory, focus, and mood. Now you can with Nu:tropic. These delicious bars are packed with brain-healthy nutrients that can help improve your cognitive function.
Whether you're on the go or need a quick snack, these bars are perfect for anyone looking to boost their brainpower. So ditch the fast food and reach for a Nutropic bar instead!
Why settle for less than optimal brain power when Nu:tropic bars make it easy to get the nutrition you need for your brain to thrive? Head to their website and try them yourself.