Check out my in-depth Burn Lab Pro review to find out exactly how this weight loss supplement can accelerate your fat loss progress and even help with muscle preservation!
Because the supplement industry is so saturated with fat burners nowadays, it can be very hard to find one that suits your needs, especially if you are new to this supplement category or have never taken supplements before at all.
Luckily, I've done some of the 'heavy lifting' for you by reviewing one of the latest fat burners to enter the market – Burn Lab Pro.
It's a high-quality stim-free fat burner that claims to take your fat-burning potential to a whole new level. Which, if you're looking to get lean, will be like music to your ears!
In this detailed review, I will talk about Burn Lab Pro's ingredients, how it works, and who it's suitable for.
So, let's not delay things any further and dive straight into my complete Burn Lab Pro review!
Burn Lab Pro Fat Burner – Overview
Burn Lab Pro is a fat burner made by Opti-Nutra, a premium brand known for its high-quality products, including the hugely popular universal nootropic – Mind Lab Pro.
Since Burn Lab Pro is stim-free, it contains nothing that causes unwanted side effects such as energy crashes, so you can boost your fat loss efforts without having to worry about any crashes.
The ingredients in Burn Lab Pro are all-natural and based on the latest scientific research, with its formula designed to help you burn fat, retain your hard-earned muscle mass, and remain energized throughout your exercise routine.
If you're in a consistent calorie deficit (which you should be if you're looking to lose fat), then you can often feel lacking in energy as you look to get leaner and reach your fitness goals. Things can get even worse if you prefer to train in a fasted state.
Luckily, you don't need to worry about this with Burn Lab Pro, as it's designed to help you achieve your weight loss goals faster and easier while intensifying fasted training performance, controlling appetite, and preserving muscle while exercising in a consistent calorie deficit.
Just remember that fat burners including Burn Lab Pro aren't a miracle pill – fat loss is something that takes time and effort to achieve and won't happen overnight.
But as long as you're training consistently and following a healthy diet, Burn Lab Pro will help you achieve better results than through exercise and well-balanced nutrition alone.
Burn Lab Pro – The World's Most Advanced Fat Loss Support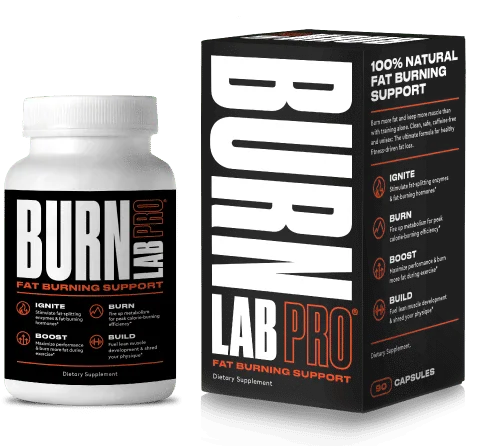 Don't let slow weight loss hold you back from achieving your body goals. Buy Burn Lab Pro to help you lose fat faster and easier. With its advanced fat loss support, you'll feel strong and confident in your body.
Burn Lab Pro – Ingredients
In this section of my Burn Lab Pro fat burner review, I will cover its ingredients in more depth, as well as more about how it works. But first, here's the nutrition facts label for your reference:
Forslean®—375 mg
Forslean® is an advanced form of Coleus Forskohlii, an Ayurvedic root herb. Its active ingredient, forskolin, can boost your fat loss efforts by stimulating enzymes, which then breaks down fat cells in your body. It can also help you build lean muscle, too.
Additional benefits of Forslean® include stress resistance along with enhanced focus, mood, and clarity, which ensures you can stay on track with your fat loss goals.
The Forslean® in Burn Lab Pro is the most effective extract available, and you'll find it alongside other clinically proven ingredients you'll find out more about in this section.
But perhaps its most impressive benefit is that Coleus Forskohlii has the potential to boost fat loss at the same time as building muscle, with research pointing towards the fact it can positively influence overall bodyweight loss and management (1).
HMB (ß-Hydroxyl ß-Methylbutyrate)—1500 mg
HMB, otherwise known as ß-Hydroxy ß-Methylbutyrate, is a natural ingredient that is a metabolite of the amino acid leucine.
Studies show that HMB supplementation can help reduce gains in fat mass and increase lean muscle mass, and so it can come in useful for protecting those hard-earned gains!
A 2017 study also found that HMB can promote advantageous body composition changes while increasing aerobic and anaerobic capacity so you can power through even tough sessions while fasted training and/or in a caloric deficit (2).
HMB is also known to encourage the body to use fat as a fuel source, which means it can help you burn more calories, particularly when taking part in high-intensity training.
Capsimax® (Cayenne Pepper Extract)—75 mg
Capsimax is a natural fat burner made from cayenne pepper. It's a stimulant-free fat-burning solution that is naturally thermogenic, meaning it increases your core body temperature and helps you burn more calories.
Cayenne pepper contains ingredients known as active capsaicinoids, which act as a natural appetite suppressant to stop you from going over your calorie goals by overeating.
And since Capsimax cayenne pepper provides stimulant-like fat loss benefits minus caffeine's jittery effects, it's easy to see why the folks at Opti-Nutra included it on the ingredients list of Burn Lab Pro.
NutriGenesis® GTF Chromium—90 mcg
GTF Chromium is a key mineral when it comes to fat loss and body composition, as it enables you to use blood glucose as energy as opposed to storing it as fat.
It can also enable you to reduce your bodyweight significantly, with research suggesting it causes greater fat loss and less muscle loss when compared to not taking it at all.
The advanced form of GTF Chromium used in Burn Lab Pro uses the unique and advanced NutriGenesis® nutrition technology innovation that grows amino acids, vitamins, and minerals in a state-of-the-art lab.
BioPerine Black Pepper Extract (95% Piperine)—3.75 mg
BioPerine is a patented black pepper extract with an exceptionally high concentration of piperine – 95%, to be exact.
Piperine has been clinically proven to increase the absorption rate and bioavailability of other nutrients by up to 40% – a significant boost for your body.
BioPerine black pepper extract is also a thermogenic ingredient that will give your metabolism a kick-start and help you burn more fat through a rise in body heat and increased calorie burning.
It is also an appetite suppressant that will allow you to eat less while still feeling full and satisfied, so there are no hunger pangs or temptations of unhealthy snacks in the middle of the afternoon when productivity takes a dip.
How Do You Take Burn Lab Pro?
As you'll now be aware, Burn Lab Pro is the ideal supplement for those who enjoy a fasted workout.
But to make the most out of this fat-burning supplement, you should take 2-4 capsules 15-30 minutes before your workout.
And because it's safe for long-term daily use, you can take it for several weeks or even months without needing to take any breaks.
The key thing to remember is that you shouldn't take any more than what is listed on the bottle, as more isn't better when it comes to taking fat burners. Besides, no fat burner is a magic pill that allows you to lose 10 lbs overnight!
Where Can You Buy Burn Lab Pro?
Like all other Opti-Nutra supplements, you can only buy the Burn Lab Pro fat burner from its official website.
A major benefit of this is that you don't have to worry about receiving a fake product; you'll always get the real deal by ordering directly from the manufacturer, plus you'll get peace of mind thanks to the generous 30-day money-back guarantee!
If you find Burn Lab Pro on any online marketplaces such as Amazon or eBay, I'd recommend staying well clear so you don't end up with a knock-off, or put your health at risk!
In terms of the pricing, Burn Lab Pro comes in at $59 per bottle. So, it's certainly not the most cost-effective fat burner around. But considering it's a premium product, it's understandable it comes in at a higher price than its inferior competitors.
Besides, there's always the bulk-buy offer you can opt for, which comes with 4 boxes (3 + 1 free) along with fast and free shipping to anywhere in the world! This also brings the cost down to just $44.25/bottle.
Does Burn Lab Pro Have Any Side Effects?
Burn Lab Pro is a stim-free fat burner. This means that it does not contain any caffeine, synephrine, theobromine, or yohimbine—all of which can cause side effects such as headaches and jitteriness when taking them in high doses.
And if you're in good health, Burn Lab Pro should be absolutely fine for you to take, with any side effects being extremely rare.
This is helped by the fact that the Burn Lab Pro formula is vegan-friendly, all-natural, and contains no allergens or synthetic additives.
Even its capsules are good for you, as they're made from pullulan (fermented tapioca) which ensures optimal nutrient absorption.
But as with any other supplement, consult a medical professional before taking Burn Lab Pro if you have any concerns.
What Goes Well With Burn Lab Pro?
Burn Lab Pro is a fantastic supplement in itself, as it can take your fat loss efforts to the next level. But if you were wondering if you can stack it with other supplements, the answer is yes – absolutely!
Performance Lab Caffeine+ is a great option to go with Burn Lab Pro – these are the best caffeine pills on the market that can give you an extra boost if you feel like your energy levels are not where they should be and you can tolerate a low dosage of caffeine.
Who Uses Burn Lab Pro?
You might be on the fence about whether to buy Burn Lab Pro, and I totally get that, as not all fat burners do what they say on the tin.
However, I can assure you that Burn Lab Pro is different.
It's made by Opti-Nutra, one of the most trusted supplement brands on the market, for a start. It also contains no stimulants, so you don't need to worry about jitters, and it uses only science-backed ingredients proven to boost your fat loss efforts alongside a caloric deficit, healthy diet, and regular training.
As if that wasn't enough, it's even endorsed by one of the leading fighters in the UFC!
Number 1 ranked UFC bantamweight fighter Aljamain Sterling, also known as "Funk Master" used this product besides his diet and training regimen in the run-up to his title win against Petr Yan on March 6, 2021.
As a result of using Burn Lab Pro, he was able to lose a staggering 30 lbs to make the weigh-in for the fight!
So, if you needed an extra push to decide whether Burn Lab Pro will work for you, just think about the fact it works perfectly for elite combat sports athletes!
Final Verdict – Burn Lab Pro Review
So, that concludes my in-depth Burn Lab Pro review!
In summary, the ingredients are high quality, and it has a solid reputation with the one and only Aljamain Sterling using it to make weight prior to his UFC bantamweight title win!
All in all, Burn Lab Pro is suitable for those who don't like synthetic stimulants or need to train fasted; in addition, there are no jittery side effects after use, which also makes this an ideal fat burner for those who prefer to work out later in the day.
If you're looking for a stim-free fat burner supplement that will help speed up your metabolism, reduce stubborn body fat, prevent muscle mass loss, and increase energy levels while you're reducing your calorie intake– then Burn Lab Pro is an ideal option.
If all that sounds good to you, then what are you waiting for?! – get your hands on Burn Lab Pro today!
FAQs
Do stim-free fat burners work?
If you're trying to burn fat and lose weight, then yes. A stim-free fat burner will help support your efforts alongside a caloric deficit and regular training.
The most significant benefit of a fat burner that contains no stimulants is that it doesn't contribute to the negative side effects that come with other fat burners.
Many alternatives on the market come overloaded with stimulants such as caffeine that can not only leave you feeling jittery but can also cause the dreaded crash afterward.
So, if you're looking for a fat burner that will help your workouts while not leaving you feeling drained and lethargic afterward, Burn Lab Pro is an excellent choice.
What is fasted training?
Fasted training is a fat-burning technique that involves working out in a fasted state, or before you consume any calories.
There are many benefits to fasted exercise including increased fat burn during the session, increased fat burn during the rest of the day, and better weight loss results.
Fasted training is also a great way to build your discipline and willpower because you're able to push through tough workouts without giving in to cravings or hunger.
So, if you're looking for another way to boost the number of calories you're burning daily, consider giving fasted training a shot.
Do I really need a fat burner?
It's a given that fat burners won't be for everyone. But if you're someone who's hit a plateau during the weight loss process and wants to ramp things up on their fat burning journey, a fat burner might just be the answer you're looking for.
The thing is, they are usually stimulant-based and many people can't take them because of health reasons (e.g., heart problems). So this leaves a lot of us who could benefit from one with little choice in the matter!
Thankfully, Burn Lab Pro's stim-free formula means you needn't worry about the negative side effects that come along with using a fat burner containing stimulants.
Its formula is safe and natural, and it contains no stimulants whatsoever; just proven ingredients known to promote fat loss and support healthy weight management.
Can you use a fat burner without exercising?
The great thing about fat burners is that they're a great way to take your fat-burning potential to the next level. But if you don't exercise, will that same fat burner be effective?
The answer is yes, but the problem with not exercising while taking a fat-burning supplement would be that you're only dealing with one side of the equation.
There will still be some reduction in belly and stubborn body fat as there's an increase in your metabolic rate without exercise (as long as you're in a caloric deficit).
However, as long as you're exercising regularly, adding in fat burners will help to maximize your results and speed up the process of burning stubborn body fat!